SureWave Products
North and South Carolina USA Security Systems Installers for Commercial and Residential - Quality work at competitive rates. New Installations or old System Repairs - Free Estimates
TOUCHLESS SWITCHES FOR SUPERIOR DOOR ACTIVATION
Convenience, containment, and compliance are the main focuses of the SureWave touchless access control system by Camden Controls. Focused on reducing the spread of germs with its touchless entry, the Sure Wave system is one of the top motion-sensing door switches on the market.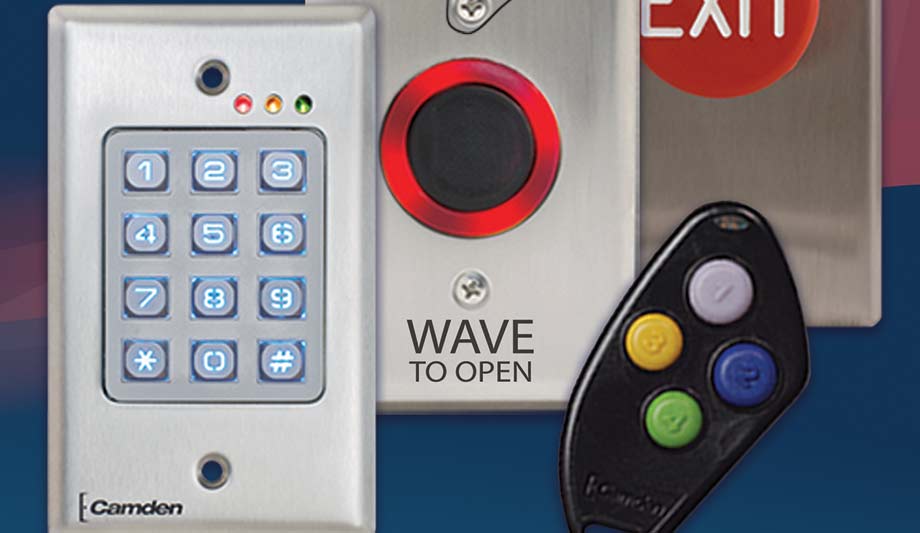 SureWave is not only great for improving the traffic flow of high-trafficked doors, it meets ADA requirement standards and is customizable to fit the needs of your business. Limit the spread of germs and improve accessibility by asking your Flying Locksmith technician about the Camden Controls SureWave CM-330 today.
KEY ADVANTAGES
The SureWave CM-330 by Camden Controls offers businesses a convenient and robust touchless switch that can help improve your building's access control capabilities. The industry-leading advantages of this system include:
Containment – SureWave helps reduce the spread of germs by allowing for touchless activation up to six feet away from the switch. The operating range can be adjusted as desired and, of course, locked when necessary. Clear red and green LED lighting lets a user know whether or not a door is accessible at all times. Never having to touch a handle limits the opportunity of germs to be spread.
Convenience – When doors can't be kept open but remain high trafficked, the SureWave system helps keep people flowing by sensing when they are passing through. Adjustable sensor ranges help with timing so you're not waiting for automatic doors to open as people may be in a hurry to get through.
The SureWave CM-330 also offers convenient maintenance, with wired and wireless installation. Battery powered touchless access means any infrastructure can be upgraded, whether or not it has electrical wiring in accessible areas.
Compliance – SureWave CM-330 systems offer enhanced accessibility to help make your building accessible for all. The touchless sensor features of the system are designed in accordance with ADA standards to allow for waved entry for users who may not be able to access standard door controls. With detection adjustability from 1 inch to 6 feet, you can adjust the settings to provide ease of access for those in wheelchairs or walkers.
Perfect for hospitals, nursing facilities, and buildings looking to reduce the likelihood of viral contamination, the SureWave CM-330 system from Camden Controls is the ideal touchless sensor for your business. Learn how it can help your business by contacting your local Flying Locksmith technician and asking about your access control solutions.